June 9, 2016 – 3 Minute Read
The home of the famous "Y" intersection, West Oak Hill is defined by Highway 290, William Cannon Dr., Southwest Parkway, Thomas Springs, and Circle Drive. Originally "Live Oak Springs," Oak Hill was annexed by the city of Austin in 2000, and "West Oak Hill" is considered the furrowed west side where "the neighbors are kind, the schools are top-notch, and the stars can be seen brightly, just outside of Austin city lights."
West Oak Hill trumpets more space than your average suburbia, and much of the area includes older forested neighborhoods, sprinkled with a few newer master-planned areas and convenient strip malls. As usual, Austin's fingerprints touch West Oak Hill in places like Jack Allen's Kitchen, Red's Gun Range, and collector's paradise – Antiques and Things.
Affordability, proximity, safety, and highly ranked AISD schools – the makings of a great recipe for young families, or anyone looking for a country feel with big city access.
For those of us that would love to play a round of golf every week, but just can't spare the extra 4 hours to get outside and enjoy the links, Oak Hill Golf Range is a great way to quench that thirst to get some swinging in. The range is currently open until 10pm 7 days a week, which is especially appreciated during those smoldering summertime months or when you're looking to unwind after dinner.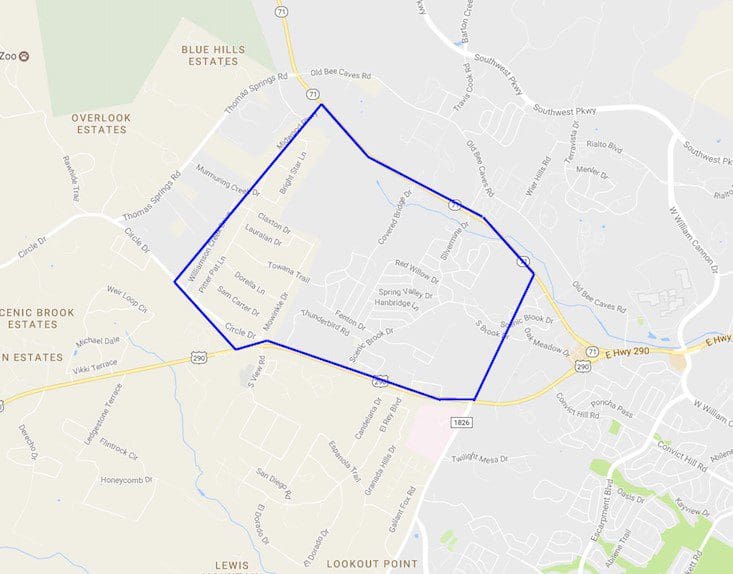 This place has quality range balls, a putting area, and your choice of artificial turf or grass hitting surfaces. If you sign up for their free eClub, they will also receive a free bucket of balls on your birthday every year (c'mon, who doesn't like free stuff.) The management is also extremely friendly, and if you spend enough time here, you'll get to meet Iggy… the dachshund mix pup that sometimes works as Oak Hill Golf Range's welcome ambassador!