Neighborhood Highlight: St. Edwards
December 16, 2016 – 2 Minute Read
Don't let the proximity to the university fool you. Artists and ambitious young professionals are calling this neighborhood home. Most describe it as 'homey' and 'neighborly' and best of all, 'quirky'. When outsiders think about Austin and 'keeping it weird' this neighborhood comes to mind.
The St. Edwards neighborhood is bordered on the north by E. Oltorf Street, on the East by highway 35, on the south by Highway 290, and the west by S. Congress.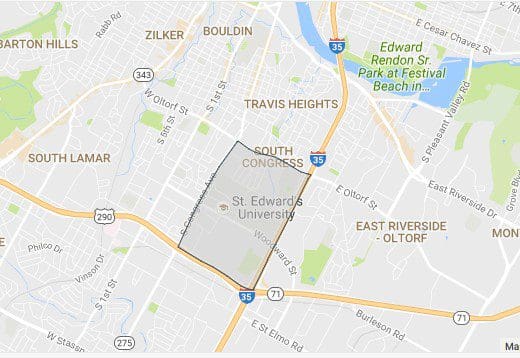 The university keeps the area abuzz with things to do and places to go all within walking distance. Downtown is easy to access if you need to be in the thick of the city, and anywhere you live within this neighborhood, walking to the local corner store for a loaf of bread or orange juice is easy, and the places to meet up with friends are endless.
It's hard to come by homes for sale in this neighborhood! When available, they go fast! The homes are a collection of mid-century modern, condos, and cool contemporary remodels.  The area is so desirable because of how central it is to the heart of the city but the availability of yard size.
If you enjoy hip and happening, St Edwards is worth a look at!

This beautiful, private university is a home to some of the finest students in Austin, and I known as an oasis in the city. Being near a university means being close to the arts! There are many opportunities to view exhibits at the Fine Arts Center on campus, attend the Mary Moody Northen Theatre, or attend a classical or cultural music event. When you're done, stroll the beautiful campus and appreciate the manicure lawns and amazing architecture that was established in 1877.