Neighborhood Highlight: Old Enfield
December 16, 2016 – 2 Minute Read
Old Enfield, the oldest neighborhood located in Old West Austin Historic District, is a historic neighborhood with elegant homes, top performing schools, and a central location. Residents here have easy access to shopping, entertainment, amenities, and more. The neighborhood is bordered on the west by Mopac, on the east by Lamar Blvd., and on the south by Enfield Road. The north side of the neighborhood is capped off by 24th street.
The neighborhood has colonial style residences and is coupled with newer, modern residences. Even with a short glance, visitors to the neighborhood can already tell that this urban village is exclusive and prestigious. It is one of the most desirable neighborhoods to live in and is home to some of Austin's most distinguished residents.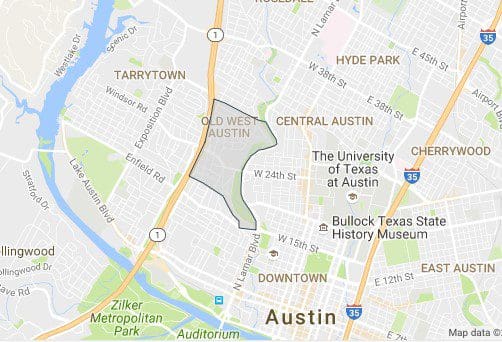 The homeowners here take care of the tree-lined streets and appreciate the sanctuary that the large lots and homes provide in the hustle and bustle of the growing city. The neighborhood former residents boasts four Texas governors, two mayors, various state and local lawmakers, University of Texas faculty, and many civic leaders.
Old Enfield is also home to Woodlawn Mansion, also known as Pease Mansion or Governor Shiver's Mansion, is a pre-Civil War mansion built in 1953 and added to the National Register of Historic Places in 1970.
Nau's Enfield Drug
On their website is a quote from Eric Highland that says "If you are looking to go to a nostalgic joint that serves up a thick burger and great shakes, and you don't care about fries, you won't be disappointed by Nau's … This place has been around Austin since 1951 and there is a reason for it. I recommend you check out Nau's Enfield".  Nau's Enfield Drug is Austin's ONLY original full-service drug store, soda fountain, and grill. They've been open since 1951, and are not only a historic landmark, but an amazing neighborhood gathering place.