January 23, 2016 – 3 Minute Read
If the idea of living a "straight shot" to downtown in a large tree-covered lot perfectly situated between Mopac and I35, this "Way South Austin" community is for you. Located on the west side of Manchaca Rd. between Slaughter and Davis Lane – The primary neighborhood entrances are from Davis Ln. at Collingwood Dr., and from Manchaca Rd. at Crownspoint Dr. or Monarch Dr. Known for spacious yards with homes built mostly between 1968 –1985, this is the place where you may end up with that swimming pool you've always wanted for a fraction of the price in other hot Austin neighborhoods.
Conveniently located near a handful of public parks that feature trails for jogging and biking, disc golf, swimming pools, ponds, sports courts, picnic areas, and playground equipment for the kids – Castlewood Forest attracts families, young professionals, independent retirees, and about anyone that is looking to enjoy all the amenities that come with emerging progressive community.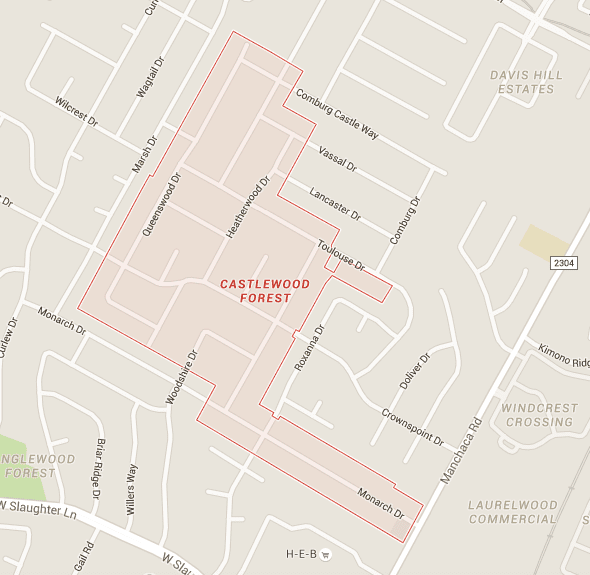 And that's just the tip of the iceberg. Once upon a time, under the pink evening sky just after dusk, I was driving South on Manchaca, crossing over Slaughter Lane, when my eyes were drawn to a huge sparkly parking lot full of cars, lights, and action. A wedding celebration, perhaps? No. Too big. A festival? No, the stage is permanent. Is that Vellejo playing?! IT IS! So in I went.
Pulled right into the lot, walked up to a gigantic oak-shaded patio area surrounded by food trailers and sand volleyball courts. Spotted some friends, and invited the ones I was planning to go visit that evening. Fun was had by all. Another great example that here in Austin, one need not travel downtown to have a killer night out.