Austin Football Club: The Powerful Economic and Real Estate Impact for North Austin
February 11, 2021 – 5 Minute Read
We all know of the Austin FC stadium but in some ways, it's something out on the horizon still. We thought it would be great to share an update and our take on this big addition to Austin's vibrant lifestyle, sports-loving population, and the reverberating economic impact it will have as Austin's first professional soccer stadium!
If you haven't been by the stadium near Braker Lane and Burnet Road, we highly recommend doing so – it's a sight to behold and a historic piece to Austin's landscape. Also, congratulations to Q2 Holdings, Inc, an Austin-based tech company, on the naming rights. Q2 provides online banking software and services with their mission to build strong and diverse communities. Today, 1 out of 10 digital banking customers like you and I are using Q2's platform to bank!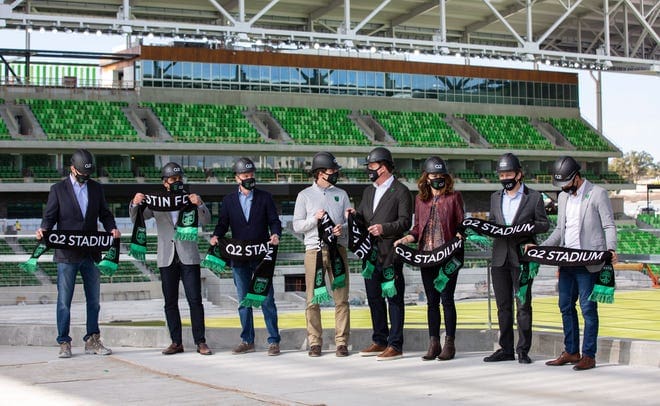 Picture by Ana Ramirez // American-Statesman
A few quick FAQ's on this privately-funded stadium before sharing our insights. The $260-million Q2 stadium sits on a 24-acre-property, has a natural grass field and will fit 20,500-plus fans. Currently, it is 90% complete and is anticipated to finish on schedule in early April. Although Austin FC starts their season in April, their inaugural match at their new stadium is scheduled for June, according to the team's president.
The impact of Q2 Stadium will be huge economically:
An already red-hot economic zone led by The Domain, major NW tech employers, burgeoning Burnet Road, and a transitioning industrial area surrounding the stadium will move into overdrive. Major multi-family development will increase two-fold, service businesses will spring up and land values will double in the next 24 months.

Gameday projections – Longhorn Football games make a conservative local impact of $100M per game. Capacity is 80,000 at impact on game day locally, on the low side. Austin FC will seat a fraction of that at 20,500 seats. However, even at 50% capacity and what amounts to 12% of a Longhorn Football game at 50% capacity, it doesn't take rocket science to figure out FC football games are likely to produce $5m-10m per game to the local economy in this sector of the city. That's big. 

The food and beverage industry as well as the hospitality industry will receive a major boost from the presence of the stadium. This will be very welcome considering the massive impact COVID has had on that component of the economy. 

Rental rates on residential single family homes and apartments will likely triple in the next 3 years.

Our prediction is residential real estate prices within a 3-mile radius will jump 10-15% annually for the first 2 years alone. Combined with Apple campus, Samsung's expansion, and the major continued push by NW tech employers in the vicinity, the 2N sector will see some of the best appreciation around Austin for the next 3-4 years.
Stay up to date with progress on the Q2 Stadium on Austin FC's website, where you can even see stadium renderings and view their construction camera.